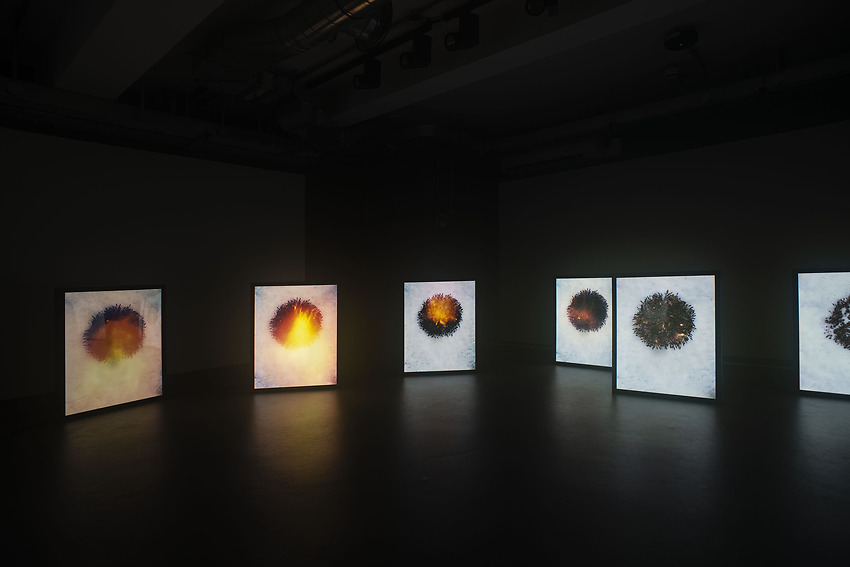 Field Studies - Land Body Botany. New multimedia exhibition at the Bath House Galleries, University of Huddersfield.
As part of Cultures of Sound, the School of Arts & Humanities at the University of Huddersfield is delighted to present Field Studies – Land Body Botany by award-winning photographer Dr Yan Wang Preston and leading experimental music composer Prof Monty Adkins, with guest artist Carrie Williams. This exhibition pays tender attention to so-called non-native invasive species Rhododendron Ponticum within one of its many 'infested' landscapes. Luminous and exquisite works in a variety of media were made between 2020 and 2023, shaped by how the COVID-19 crisis altered our relationships to the landscapes, flora and fauna that surround us.
Yan Wang Preston has conducted careful and exhaustive artistic research around the rhododendron from her perspective as a photographer, and in collaboration with composer Monty Adkins and textile artist Carrie Williams has situated it within post and decolonial narratives, as well as literally within the landscape of West Yorkshire and East Lancashire. Here, visual and auditory representations of the passing of time and the turning of the seasons are manifested through material representations which reference the artists' cultural heritage and complicate their relationship to the categorising impulse of the institution. For the first time Wang Preston has produced sculptural objects which contain layers of meaning bound up in her choices around construction and materials, whereas Adkins and Williams have brought their distinct artistic and artisanal practices to bear on this body of research.
Field Studies – Land Body Botany comprises two companion series, shown together in full for the first time. Among them, 'With Love. From an Invader.' is an immersive multi-screen projection with an original soundscape, made from Wang Preston's 182 walks to one love-heart-shaped rhododendron bush within one year. 'Autumn Winter Spring Summer' is a set of photographic objects and installations including a six-meter-long handscroll, a series of specially constructed lightboxes and an artist-specimen book, inspired by botanical methods and hybrid identities.
For full press release, click here.
For Eventbrite link link, click here.
PV: 6-8pm, Thurs 14th Sep at Bath House Galleries, Sovereign Design House, Queen Saint South Annexe, Huddersfield HD1 3DR.
Artists in conversation with Dr Alan Elliott, Royal Botanic Garden Edinburgh: 1-3pm, Wed 27th Sep. Location TBC.
Exhibition run: 15 Sep - 7 Oct. Mon - Fri: 10am-3pm. Sat: 11am - 4pm.